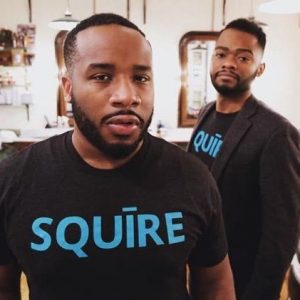 Songe LeRon + Dave Savant
Founded 2015
Y Combinator, Trinity Ventures
Profile 20 : squire
About
Squire's mission is to ease the hassles of getting in and out of your favorite barber's chair, paying for their services, and exploring the best shops in your city.
Squire has a booking and payment platform that connects people with great barbers nationwide. Squire is also the premier management platform for barbershops. Using Squire, barbers are able to better engage their customers, process bookings and payments and better market their business through Squire's "barbershop discovery" capabilities. With headquarters in New York and a presence in major cities in the United States Squire, has quickly become a market leader in technology solutions for the barbershop industry nationwide. The company recently raised an $8 million Series A round led by Trinity Ventures.
"Songe LeRon and Dave Savant have been going to barbershops since childhood. In 2013, the friends recognized something about the beloved experience: it hadn't changed in years. Though the service provided while in the chair is exceptional, barbershops have notoriously long and unpredictable wait times, they typically work as cash-based businesses, and they tend to lag behind today's high-end salons in terms of technology.
"Men get haircuts every few weeks, and no one was addressing this space," LeRon says. "We realized that if customers are going to get a haircut anyway, then we could find a way to make it a better experience." "