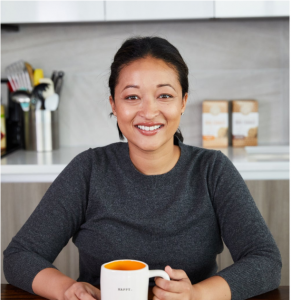 Denise Woodward
Founded 2016
Marcy Venture Partners, The Factory, Backstage Capital, SoFi Venture
Profile 9 : Partake Foods
About
New Jersey-based Partake Foods, makes super, delicious allergen-free cookies. Partake's products are free of the top eight allergens, which means no peanuts, tree nuts, eggs, milk, soy, gluten, meat or fish, and they still taste really good.
In 2016, Denise Woodward's 8-month-old toddler was diagnosed with a severe food allergy and the Woodwards learned that Vivienne was allergic to many common ingredients found in food.
"I couldn't figure out how to make a gluten-free, corn-free, egg-free cookie, so I went to buy one, but couldn't find any," recalls Woodard. In a bold move she reached out to award-winning gluten-free chef Shauna Ahern of Gluten Free Girl with her idea. "She helped us develop recipes for the three mini cookies we have now. " ~People
Partake Foods' products can now be found in over 300 stores, and the goal by end of 2019 is to be in over 1,000 stores.