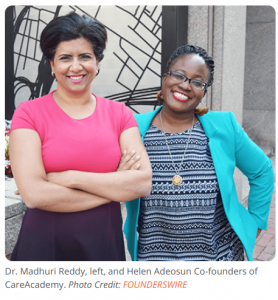 Helen Adeosun + Madhuri Reddy
Founded 2013
Backstage Capital, TechStars, Right Side Capital Management, Rethink Education, LuminaFoundation, Pipeline Angels
Profile 17 : CareAcademy
About
CareAcademy develops evidence-based online classes to help both professional and family caregivers provide excellent care at home so older adults can live independently.
CareAcademy provides home care agencies with a best-in-class online education platform that delivers engaging video-based classes and real-world scenarios that walk through aspects of the caregiver experience.
Approved classes are based on state mandates, client needs, and your caregiver's learning path.
"When Madhuri and I created CareAcademy, we saw that there was a lot missing in caregiver education. At CareAcademy, we sought to fill the void with fresh, relevant classes to engage learners, a dynamic platform that personalizes learning, and the extra set of hands home care agencies need to increase productivity.
So, we started CareAcademy in 2016 with a simple idea: to empower caregivers to learn how to deliver the best care to older adults with the support, guidance, and compassion needed to improve their quality of life.
We would then make it easy for caregivers to "upskill" and continue their education over time so they could better serve clients as needs changed and advance their careers.
The result is a better caregiver, a better home care agency and a better way to care."