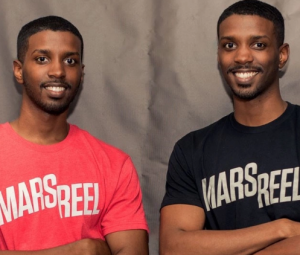 Brandon + Bradley Deyo
Founded 2010
Backstage Capital
Profile 16 : Mars Reel
About
Mars Reel Media is a Mobile Sports Network that produces highlights, profiles and other content covering the high-school basketball world.
Mars Reel is designed for 13- to 24-year-old viewers and features, short highlight videos with cool music delivered to their mobile devices. Mars Reel reaches 25 million millennials every month.
Mars Reel also offers an Academy that lets young athletes workout with the best trainers in their region–with the opportunity to get discovered by Mars Reel scouts, trainers, staff, and videographers.
Brandon and Bradley Deyo founded Mars Reel in 2010, when they were themselves high-school basketball players living in Maryland.
"Bradley Deyo, co-founder and COO of Mars Reel Media, said the partnership with USA Today Sports has helped it significantly expand its reach to attract a whole new base of high-school basketball fans. "As we continue to expand our distribution network, we are particularly excited to be working with the team at USA Today Sports to produce unique, story-driven content," he said."