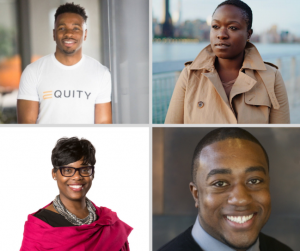 Damola Ogundipe, Yemi Adewunmi, Shawntera Hard, Ken Thompson
Founded 2015
Backstage Capital, Right Side Capital Management, Techstars, Higher Ground Labs
Profile 12 : Civic Eagle
About
Civic Eagle provides workflow solutions for public policy professionals to get the most out of legislative intelligence.
Civic Eagle's SaaS platform leverages artificial intelligence to help organizations reduce the time and costs to identify, track, and analyze legislation and regulations from across the country.
Enview does the discovery work, so your team can focus on winning your policy campaigns.
With home bases in Atlanta, Minneapolis, and Washington, D.C., Civic Eaglelaunched three years ago under the rallying cry, "Everyone deserves an educated point of view on democracy." Its mobile-first platform beckoned users to engage in video conversations about topics of the day, while keeping fact-based dialogue and civility front and center.
"We recognized that a lot of advocacy groups — from national organizations like the NAACP to those in individual states — had a tough time understanding and keeping track of legislation, and we wanted to help [them] to advocate for legislation that's good for society," Ogundipe explained.